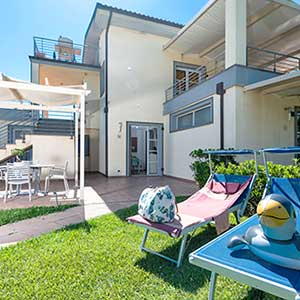 Description
A ground floor apartment of 46m2 with an independent entrance, private garden equipped with table, seats, sunbeds and barbecue, a double bedroom, and a bedroom without windows with 2 single beds, bathroom with shower, bidet and a wall-fitted hair dryer, living-dining room with double sofa bed, an equipped kitchenette, dishwasher, TV, washing machine, microwave oven, warm/cold air conditioning and a safe.
Pets are not allowed.
Description
Extra services on request (fee-paying):
Get a quote
Ask for information
Ti interessa questa sistemazione? COMPILA IL MODULO.
Ti risponderemo via mail.
Richiedi informazioni per: Appartamento
Granchio
Per ottenere un preventivo gratuito e in tempo reale sui bungalow attualmente disponibili CLICCA QUI
(redirect su booking expert con target bungalow)
Potrai anche effettuare immediatamente la prenotazione.
La tariffa comprende: pulizia finale, biancheria (lenzuola ed asciugamani) con cambio settimanale, utenze, arredo, stoviglie, posate ed attrezzatura generica per la cucina, area esterna con tavolo e sedie, consumi, un posto auto nel parcheggio interno, ingresso alle piscine, uso di ombrelloni e lettini presso le piscine fino a fine disponibilità, animazione (giugno-inizio settembre), ingresso al parco giochi, Iva 10%(salvo variazioni).
La tassa di soggiorno (esclusa) da pagare in loco ammonta ad € 0,50 a persona a notte (da corrispondere dal 1° aprile al 30 settembre), i bambini fino a 11 anni compiuti, i disabili ed un accompagnatore sono esenti. Prezzo valido salvo variazioni comunale.
Servizi su richiesta extra: Noleggio Culla da campeggio 8,00€ al giorno (40,00€ alla settimana) senza biancheria mentre 10,00€ al giorno (50,00€ a settimana) con biancheria.
Biancheria extra 6,00€ a persona (solo lenzuola o solo asciugamani 3,00€). – Noleggio Biciclette presso il market a partire da € 7 al giorno - Campo da Calcetto € 50 diurna- € 70 notturna, include 10 giocatori ed 1 ora di affitto campo.
Arrivi e Partenze dal 20.06 al 12.09 è richiesto un soggiorno minimo di 7 notti con arrivo e partenza il sabato.