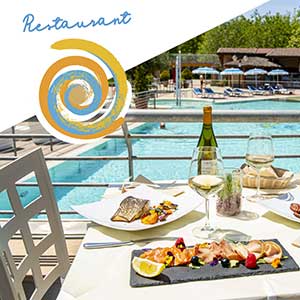 The pleasure of good eating is fundamental on holiday and we pamper you at Baia Azzurra: typical dishes of Maremma cuisine, excellent wines, a careful research and attention to the choice of local products, bread, pizza and home-made desserts. Our chefs will take care of your palate, offering you a wide choice both in the menu and in the services.
You can create your holiday package: breakfast only, half board or full board.
Particular attention is dedicated to children with menus created specifically for them, with attention to detail for their diet as well as the playful and joyful part of food.
We have made available a baby feeding space for the families of newly-borns with a feeding bottle heater, food heater, electric kettle, everything to facilitate the feeding of little guests. We take great care of all needs of specific diets: food intolerance, vegetarians, vegans; everyone will find what they need for their daily diet.
If you prefer the comfort of home, you can opt for take-away or for the new delivery service: you choose the dishes for your lunch or dinner and we deliver them directly to your bungalow, to your pitch or even to the "Terrace 64", so you can have lunch with a sea view and without wasting even a minute of your holiday!
Our chefs are certified for the handling of food for people who suffer from celiac disease: we also have a specific menu for you.
Breakfast, lunch and dinner will be served by the pool, overlooking the green and luxuriant hills that surround Baia Azzurra, or on the "Terrazza 64" by the sea ... relax and good food for your unique and unforgettable holiday!
Contact us for info and reservations + 39 334 7305544 - Pizza & Grill + 39 376 1201884.
Price list
BUFFET BREAKFAST
HALF BOARD
FULL BOARD
ADULTS

9,00 € / per day

63,00 € / per week

25,00 € / per day

175,00 € / per week

35,00 € / per day

245,00 € / per week

CHILDREN 2-9 years old

9,00 € / per day

63,00 € / per week

18,00 € / per day

126,00 € / per week

25,00 € / per day

175,00 € / per week

CHILDREN 0-1 years old

gratis

gratis

gratis